As pioneers in Indian Aquaculture Industry, Waterbase has developed model ponds in Nellore for all kinds of Shrimp Farming, and is proud to providing training and general awareness programmes to disseminate the most modern farming techniques, including:
Pond Preparation
Maintenance
Water Management
Feeding Cycles
Maintenance
Use of Probiotics
Harvesting Methods
Pond preparation, reconditioning & disinfection
Waterbase believes that the best practices result in the best yields. Pond reconditioning is one of the most important factors contributing to sustainable aquaculture yields, by reducing the possibility of toxic metabolites or pathogen from being transmitted to successive cycles.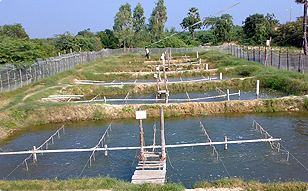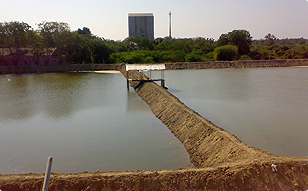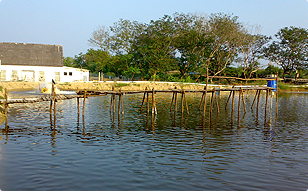 Seed selection criteria & seed stocking
One of the most important criteria for selection is the post larvae stage (PL). Identification of analytical parts of fry usually requires a microscope, but the use of small eye piece glass to hatchery can also be effective for observation.
Effective feeding management
Feed distribution in the pond is a major factor for feed management; therefore, Waterbase take pride in offering support services to farmers to help them minimize feed losses by ensuring regular distribution throughout the ecosystem.

Shrimps are slow eaters, and their mobility is low. Therefore, it is important that the feed is in close proximity with shrimps at all times. There are generally a few practices followed for feed application:
Bund feeding
Centre feeding or Boat feeding
Automatic feeding (Auto feeder)
Effective feeding management
Feeding time should be punctual
When feed is applied, aerators should be stopped
After any kind of chemicals applications to the pond, the next feeding time should be suspended
Only during feeding the check tray should be provided with the calculated quantity of feed
Giving the feed in the check tray before or after feeding can be reason for misinterpretation of the collected information from the tray